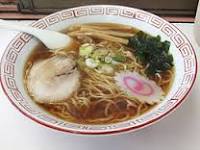 Now, we eat ramen all over the world. Cup Noodle is sold in over80 countries. Then, what is ramen in Japan? Why are Japanese ramen shops special? This time, I'll tell you three points; the history, the position of food-service industory, the basic types of ramen.
History
There are many opinions about an original ramen. I'll pick up the one. In early 20th, Chinese "la-mian(one of the Chinese noodle)" was introduced in a Chinese restaurant in Japan, and it have been changed by Japanese. In China, la-mian's noodle was made by hands, but 20th, Meiji periode in Japan, noodle-making machine still exsisted. So, Japanese ramen is far different from original one.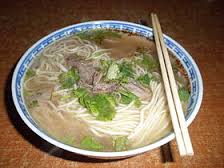 ads by google
Position of food-service industory
Ramen's prices are about 300~1200 yen. Men early 20th in Japan earn 220,000yen a month. We can eat a cheep ramen every day, but good ramen is expensive. Ramen in cheep restaurant is cheep, while ramen shop from 500~1200yen.
We think ramen has a lot of salt and it is not good for health. One caring about the health does not choose ramen freqently; going to ramen shop once 2~ 6months, while ramen lovers go there 3 times a week.
Ramen has much calorie, so it is good for lunch, but ramen is olso good for the last bite after drinking. Light taste ramen helps us get nutritions that have lost while drinking alcohol. This is one reason that ramen shops open in lunch time and after dinner.
Basic types of ramen
Shoyu ramen; soy-source ramen
The standard ramen. It's soup is made by chiken and seafood. It's tastes light, normally. Good to eat with fried rice and ziaoji.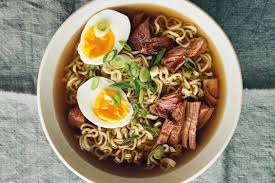 Miso ramen; soy-paste ramen
It has deep taste. In winter is good to eat. Each place, each miso. So each person loves each miso ramen. Because of its deep taste, you should order with rice(rice tastes plain).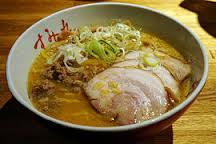 Sio ramen; Salt ramen
It is made without soy-source or a little. The taste is the lightest on the article. Many sio ramen shops are near the sea. Seafood helps the soup much better. Of cource, chicken and other things are used. There are few ramen shops which serve very good sio ramen.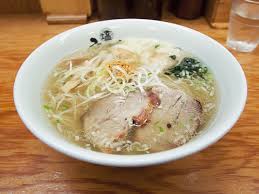 Tonkotsu ramen; pork's bone ramen
A lot of pork(pig)'s bones are used in the soup. It tastes heavy but creamy. Comparing other ramens, it has fine noodles.